Regional Comparisons Public Health 2019
The 21 regions and 290 municipalities in Sweden are political bodies and most of the welfare services that impact citizens' lifelong health fall under their remit, such as healthcare, childcare, schools, social service, elderly care and support to people with disabilities, some emergency services, environmental issues and urban planning and sanitation (waste and sewage). Therefore, the municipalities and regions need reliable data that can be compared. Such data is available in the report Open Comparisons in Public Health (OCPH) 2019.
Sweden is a high-income country with a population of approximately 10 million. About 15% of the population was born in another country, and about one in five children in Sweden have a family with roots in another country. Sweden has 21 regions and 290 municipalities. In total, 85% of inhabitants live in cities. According to Statistics Sweden, the population is expected to reach 11 million in 10 years, an increase of 231,000 children and young people, 399,000 people aged 19-64 years and 309,000 people aged 65 years and older. However, the share of people aged 80 years and older will increase the most; their share is expected to increase by 255,000 people, a growth of 50%.
In 2018, the Government presented the Bill entitled 'Good and equitable public health – an advanced public health policy' to the Riksdag in Sweden. The Bill was endorsed by the Riksdag in June 2018. The overarching objective of the public health policy has a clear focus on equitable health throughout the population, and a goal to reduce avoidable health inequalities within a generation (30 years). The regions can help to achieve this objective as part of their regional responsibility for sustainable societal development but also through their responsibility for healthcare. Municipalities are important as they are responsible for most of the welfare services that impact people's health throughout their lives.
A survey with 39 indicators
Regional Comparisons Public Health (Öppna jämförelser folkhälsa 2019) is an indicator-based comparative study, presenting 39 indicators. The indicators reflect health outcomes as well as social and living conditions, and lifestyle habits. Social conditions include socioeconomic factors such as education, work and occupation, while living conditions relate to the living environment, recreation, a sense of being able to influence your situation and levels of security and trust. Living conditions are affected by social conditions. Lifestyle habits relate to everyday behaviours that are often affected by social conditions and living conditions.
Regional and local comparisons
The comparisons are between municipalities and between regions. However, in order to understand the indicators in a wider context, trends over time at the national level and how the outcome is distributed between different groups based on gender, age and educational background characteristics are presented.
The report aims to provide regional and local statistics to assist various management in decision-making and to prioritise activities to improve the public health, but it should also facilitate for in-depth analysis as part of systematic quality development. All the results featured in the report are presented in visual form in Kolada, the database for municipal and regional statistics.
Fig. 1 Variation in results between the municipalities in Sweden (highest and lowest figures in 9 of the 39 indicators from OCPH 2019). OCPH, Open Comparisons in Public Health.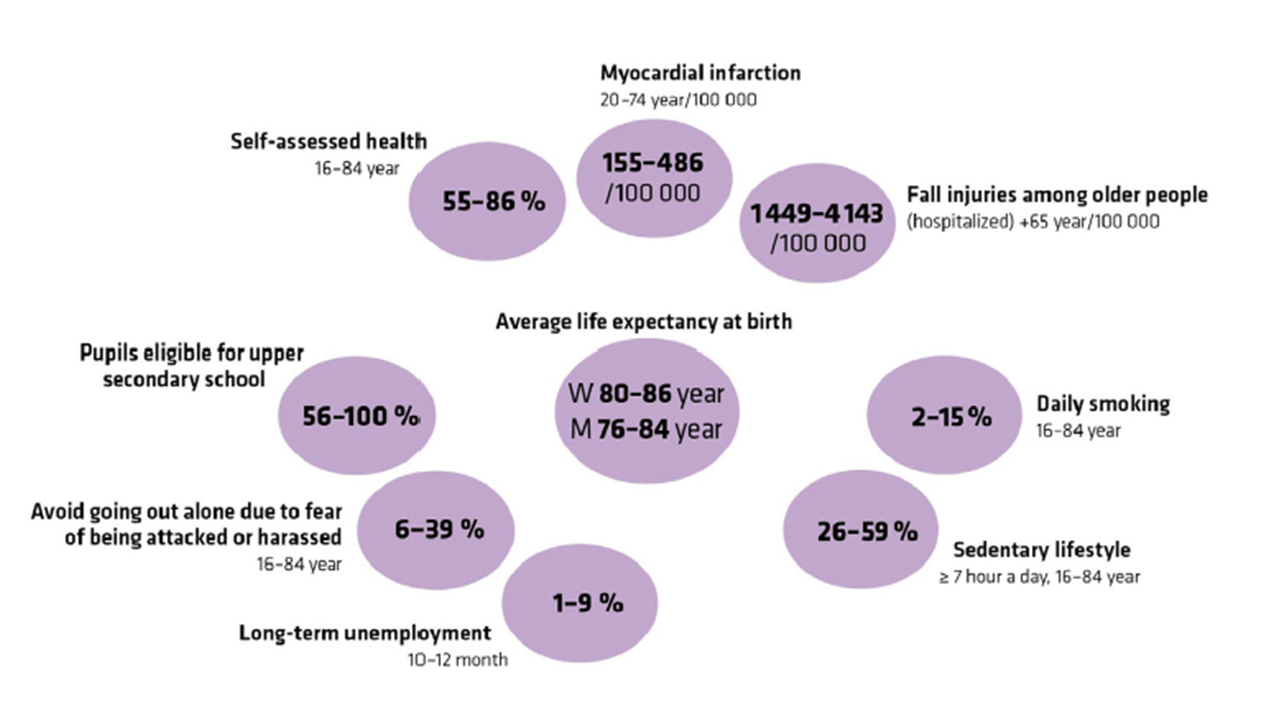 Some progress but disparities remain
The results shows that across the population, levels of health are good and have, in some areas, improved over recent decades. However, some significant health disparities remain according to neighbourhood, sex, age and educational background. Health disparities related to the level of education are often larger than those between women and men, and there are larger differences within a region than between regions. Health disparities have, in some cases, increased, such as for life expectancy. Overall, the results indicates that if health equity is to be achieved, leaders at all levels must collaborate and advocate for political action and local efficient public health interventions to eliminate health disparities as a result of neighbourhood and social conditions.