The traceability system for tobacco products
In short, the traceability system means that all economic operators, facilities and machines that are part of the supply chain of tobacco products have a unique identification code. All tobacco products have a unique identity label, also called a traceability label. The purpose of the traceability system is to combat illegal trade in tobacco products.
Unique identifier - a traceability marking
All unit packets of tobacco products must carry a unique identifier (UI), also known as a traceability marking. When the unit packet is handled and transported, the events shall be recorded and the information transferred to a central database. The financial transactions linked to the tobacco product are also recorded in the database.
A tobacco product may not be sold if it does not have the UI. The unique identifier codes and unique identity tags are generated and issued by the authorized ID issuer.
More about authorised ID issuer
Figure. System structure of the traceability system.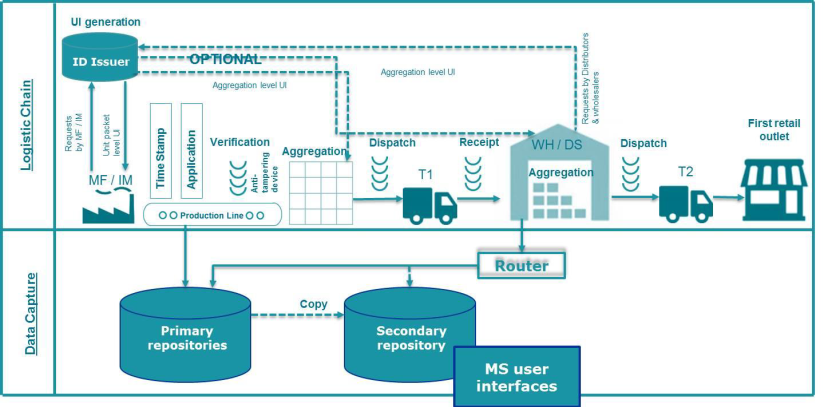 Source: The illustration is taken from the Commission's manual for stakeholders:
Systems of traceability and security features for tobacco products in the EU – Stakeholder manual (eur-lex.europa.eu)
Secondary repository
The secondary repository is a central database that contains a copy of all traceability data stored in the primary repositories.
After a procurement process, the Commission appointed Dentsu Aegis Network Switzerland AG as the supplier of the secondary repository. More information on and from the supplier can be found on the EU Commission's website:
EU: Systems for tobacco traceability and security features; Secondary data storage provider (eur-lex.europa.eu)
The secondary repository provides technical specifications and data dictionary for the traceability system. These documents and other information are available on the website for economic operators set up by Dentsu Aegis.
Dentsu Aegis: The EU Secondary Repository Resources Center (Dentsuaegistracking.com)
Primary repository
Manufacturers and importers shall establish a database, for the storage of all traceability data for that manufacturer's or importer's own products, which is called the primary repository.