Traceability marking on tobacco products
In order for tobacco products to be traceable, they must have a unique identity mark that makes it possible to identify, track and search the goods throughout the supply chain from production site to the retail outlet. Products intended for the Swedish market must have identity markings issued by the Swedish ID issuer.
Today the rules regarding traceability are applicable to cigarettes and roll-your-own tobacco. From May 20th 2024, this applies to all tobacco products manufactured in or imported to the Union.
Unique identifiers
Cigarettes and roll-your-own tobacco supplied to consumers on the Swedish market must be marked with unique identifiers issued by the Swedish ID issuer.
ID issuer's website (In Swedish, language can be selected)
More information on ordering unique identifiers and the traceability system
Format for unit level unique identifiers
The unit level unique identifiers (UIs), generated by the ID issuer, consists of 18 characters, to which a date stamp of 8 characters is added, making a total of 26 characters.
The UI consists of four parts:
ID issuer's code; according to ISO14549-2, 5 characters (QCALL)
Unique serial number; according to ISO646, consists of [a-z; A-Z; 0-9), a total of 9 characters
Product code, consists of [a.z; A-Z; 0-9), a total of 4 characters, the code makes it possible to determine:

Place of manufacture
Manufacturing facility (identification code)
Manufacturing machine (identification code)
Product description (type, brand, weight, etc.)
Intended market (country)
Intended delivery route (cross-border transport, first country after manufacture/import to the EU)
Where applicble, the importer into the Union

Time stamp, format YYMMDDhh, total 8 characters, indicates the time of manufacture as above, generated by the manufacturer or importer.
Figure. The four parts of the unique identifier.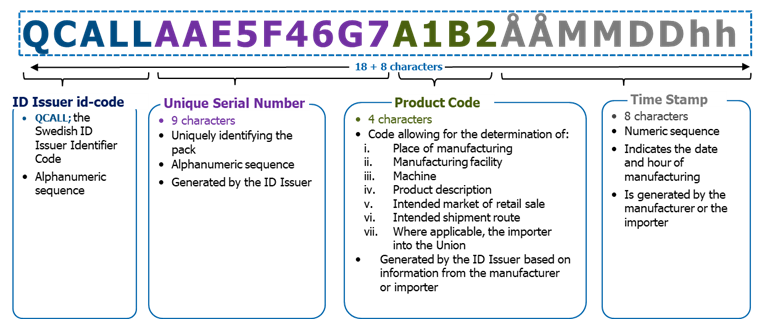 Format for unique identifiers for aggregated packaging
To simplify the registration of the tobacco products, aggregated codes can be created. The aggregated unique identifiers can be created by the economic operators themselves or by the competent ID issuers after an application for aggregated identifiers from the economic operator.
The aggregated unique identifier must follow the structure in Article 11.1 if generated by the authorized ID issuer. If created by the economic operator it shall consist of an individual code for each generated aggregated unit in accordance with ISO/IEC 15459-1:2014 or ISO/IEC 15459-4:2014 or their latest equivalents.
Fees for unit level unique identifiers
The ID issuer may charge fees only for electronically delivered unique identifiers. The fee is laid down by the Government in:
Regulation (2019:224) on fees for unique identification markings on tobacco packaging (riksdagen.se) (in Swedish)